Hollywood Hills
They climb and cling and cantilever. While the rest of Los Angeles sprawls across vast plains in a geometric grid, the city's canyon neighborhoods hug hillsides, creeping up, not out. Stairways to cliffside homes ascend from side streets that squiggle and dip with the slopes. A single main route is the sole connection to the nearby yet seemingly distant city.

Not only do the Santa Monica Mountains create the distinct metropolitan regions of the San Fernando Valley and the Los Angeles Basin, but the range itself makes up an urban district of its own. Within the range's folds and gaps. Neighborhoods unlike any others in the region--and quite distinct from one another--provide some of L.A.'s best living.

If you don't know what to look for, you can easily miss the public places in these otherwise private canyons. Here's a quick guide to what makes L.A.'s canyon neighborhoods special: good restaurants, unique outdoor experiences, and hidden surprises.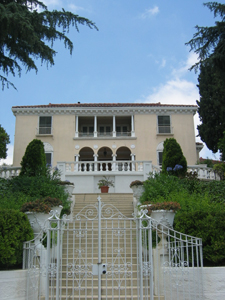 The Neighborhoods
Beachwood Canyon
The atmosphere of old Hollywood dominates Beachwood Canyon, just as the Hollywood sign dominates its hills. Beachwood Canyon works hard to maintain its rural, small-town vibe, even though its population is as Hollywood as you can get. It stretches along Beachwood Drive north from Franklin Avenue. The upper portion of the canyon is the Hollywoodland that was originally advertised in the 1920s by the Hollywood Sign. The canyon features its own market, coffee shop, hiking trails and stables.


Hollywood Heights
Hollywood Heights is a fascinating oasis of cultural landmarks, charming iconic homes and historic properties. It offers a quite residential oasis just moments away from the noise of Hollywood Boulevard. It is bordered by Highland Avenue, Outpost Drive, Franklen Ave. and the Hollywood Bowl.


Hollywood Dell
Technically "Hollywood Hills East", the Hollywood Dell was a part of Whitley Heights before the 101Freeway was built. The Hollywood Dell is so named because it sits "in" the hills that are just above Hollywood. In general, you will go down to get into the dell, and up to get out of it. The roads within the dell are mainly hilly and many homes are built on hillside lots.


Laurel Canyon
Laurel Canyon gained its greatest fame in the 1960s as a countercultural enclave. When Joni Mitchell sang about "the ladies of the canyon," she was referring to Laurel Canyon. Jim Morrison lived behind the 1919 Canyon Country Store, whose Sister Mary Michael-style painted sign indicates that the area hasn't completely lost its Haight-on-the-Hill ways.

During Hollywood's glory years, many notables, including Orson Welles and Errol Flynn, lived in the canyon. Urban legend has it that another former resident, Harry Houdini, still haunts the remains of his estate, visible on the right just before Lookout Mountain as you drive north.

Unlike other nearby canyon neighborhoods, Laurel Canyon has houses lining one side of the main street most of the way up to Mulholland Drive. There are many side roads that branch off the main canyon, but most of them are not through streets, reinforcing the self-contained nature of the neighborhood. Some of the main side streets are Mount Olympus, Kirkwood, Wonderland, Willow Glen, and Lookout Mountain Avenue.


Mount Olympus
Mount Olympus is a community of single family residences founded in 1969 by developer Russ Vincent. It is bounded by Hollywood Boulevard, Laurel Canyon Boulevard, Willow Glen Road and Nichols Canyon Road. Mt. Olympus is now a "planned community", with a homeowner's association that takes care of the day-to-day operations of the general community.


Nichols Canyon
Cut into the south side of the Hollywood Hills, Nichols Canyon stretches from Hollywood Boulevard to the south up to the top of Mulholland Drive to the north. The narrow winding roads snake through the canyon where homes are tucked into lush vegetation or perched on bluffs and cliffs with views to the ocean and downtown.

Nichols Canyon has a natural, year-round, spring-fed creek and water fall over 100' high, and several natural and man-made small water falls. They are the only natural water falls in the City of Los Angeles. The stream that flows through the bottom of Nichols Canyon attracts coyotes, frogs, deer, raccoons, skunks, rabbits and other wildlife. Hawks can often be seen circling the area as well. Home to many celebrities throughout the years, Nichols Canyon is a favorite jogging and cyclist road.


Sunset Hills
Sunset Hills is a small, affluent enclave in Hollywood bordered by Laurel Canyon on the east, Sunset Plaza Drive on the west and Sunset Boulevard on the south, which is also the City of Los Angeles' border with the City of West Hollywood. Primary access roads are Kings Rd., Little Hollywood Blvd, Queens Rd. and Sunset Plaza Dr.

A neighborhood of expensive, multi-million dollar homes clinging to dramatically rising hills, Sunset Hills is home to such landmarks as the Chateau Marmont Hotel, built in the 1920s and the famous Frank Lloyd Wright home on little Hollywood Blvd. Residents enjoy seclusion and staggering views of Los Angeles. Homes typically range from $3–5 million for small multi-level houses, with some larger homes exceeding $10 million.


Whitley Heights
Located a few blocks north of Hollywood Boulevard between Cahuenga Boulevard and Highland Avenue, Whitley Heights is known for its meandering, foliage-lined lanes and Italian architecture.

Few other areas, outside of Beverly Hills, have been saturated with the glamour and celebrity of Hollywood like Whitley Heights. Many of the 150-plus homes have been occupied by celebrities over the years, and real estate listings frequently mention those former residents,
Restaurants
Schools
Public Schools

The Los Angeles Unified School District provides education at both the primary and the secondary levels.
View test scores here, and here.


Cheremoya Elementary School
Carpenter Avenue School
Selma Avenue Elementary School
Hollywood High School
Franklin Avenue Elementary School



Private Schools
Community Statistics
People

Population: 23,125
Median Age: 40.7
Married: 37.11%
Single: 62.89%
Average Household Size: 1.7 people
Median Household Income: $62,765
Housing

Median Home Age: 45 Years
Median Home Cost: $918,310
Home Appreciation: -26%
Homes Owned: 40.54%
Property Tax Rate: $8.38
Education

School Expenditure per Student: $5,539
Pupil/Teacher Ration: 15
High School Grads: 92.49%
2 Yr. College Grads: 5.40%
4 Yr. College Grads:34.85%
Graduate Degrees:20.06%
Climate

Rainfall (in.): 15.8
Precipitation Days: 34
Sunny Days: 292
Elevation: 531 ft.
Voting

Democrat: 63.102%
Republican: 35.598%
Independent Other: .282%
Independent Liberal: .409%
Independent Conservatives:.609%