Miracle Mile
Miracle Mile is an area within the Mid-Wilshire region of Los Angeles consisting of a one mile stretch of Wilshire Boulevard between Fairfax and La Brea Avenues. This portion of Wilshire Blvd. was developed in the 1920's with automobile travel in mind, and boasted the first timed traffic lights in the United States.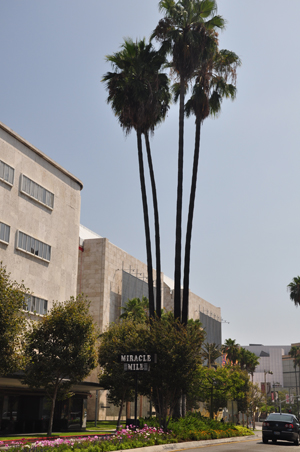 Points of Interest
Los Angeles County Museum of Art
With 100,000 objects dating from ancient times to the present, the Los Angeles County Museum of Art (LACMA) is the largest art museum in the western United States.

LACMA's collections encompass the geographic world and virtually the entire history of art. Among the museum's special strengths are its holdings of Asian art, housed in part in the Bruce Goff-designed Pavilion for Japanese Art; Latin American art, ranging from pre-Columbian masterpieces to works by leading modern and contemporary artists including Diego Rivera, Frida Kahlo, and José Clemente Orozco; and Islamic art, of which LACMA hosts one of the most significant collections in the world.


Page Museum at the La Brea Tar Pits
The Page Museum is located at the Rancho La Brea Tar Pits in the heart of Los Angeles. Rancho La Brea is one of the world's most famous fossil localities, recognized for having the largest and most diverse assemblage of extinct Ice Age plants and animals in the world. Visitors can learn about Los Angeles as it was between 10,000 and 40,000 years ago, during the last Ice Age, when animals such as saber-toothed cats and mammoths roamed the Los Angeles Basin. Through windows at the Page Museum Laboratory, visitors can watch bones being cleaned and repaired. Outside the Museum, in Hancock Park, life-size replicas of several extinct mammals are featured.


Peterson Automotive Museum
The Petersen Automotive Museum is dedicated to the exploration and presentation of the automobile and its impact on American life and culture using Los Angeles as the prime example. Encompassing more than 300,000 square feet, its exhibits and lifelike dioramas feature more than 150 rare and classic cars, trucks and motorcycles.
Restaurants
Public Schools
West Hollywood public schools are zoned to the
Los Angeles Unified School District
,
Board District 4
.
View test scores here, and here.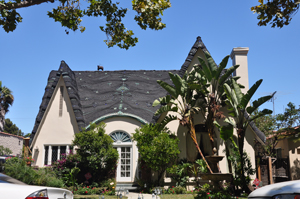 Hancock Park Elementary School
Third Street Elementary School
Wilshire Crest Elementary School
John Burroughs Middle School
Los Angeles Senior High School
Private Schools
Westside Jewish Community Center
Shalhevet High School
Yeshiva Rav Isacohn Torath Emeth Academy
Daniel Murphy Catholic High School
Cathedral Chapel School
Community Statistics (90036)
People

Population: 36,294
Median Age: 35.7
Married: 32.32%
Single: 63.64%
Average Household Size: 1.9 people
Median Household Income: $54,268
Housing

Median Home Age:59 Years
Median Home Cost: $827,090
Home Appreciation: -24.9%
Homes Owned: 16.79%
Property Tax Rate: $8.38
Climate

Rainfall (in.): 13.2
Precipitation Days: 27
Sunny Days: 290
Elevation: 75 ft.
Education

School Expenditure per Student: $5,501
Pupil/Teacher Ration: 18
High School Grads: 94.1%
2 Yr. College Grads: 5.42%
4 Yr. College Grads: 38.27%
Graduate Degrees: 19.99%
Voting

Democrat: 63.102%
Republican: 35.598%
Independent Other: .282%
Independent Liberal: .409%
Independent Conservatives: .609%